"It doesn't have to be Dior with Anna. She's always worn 1920s shoes with Dolce trousers and a vintage Patou coat and a plastic belt, and a ski pole for a walking stick and crazy blue hair and a funny hat. She's about the possibility of what fashion can be."
Stephen Jones
… vil jeg minde mig selv om, at man skal turde at være ekklektiker ligesom Anna Piaggi (1931-2012), modeskribent for italiensk Vogue og excentrisk stilikon. Det siges f. eks., at hun insisterede på at bruge en rød Olivetti-skrivemaskine til alt sit skribentarbejde fra 1969 og frem til sin død. Og tjek lige den rouge, som mest af alt minder om Versailles under Ancien Regime og hendes trademark, det blå hår 😉
Anna Piaggi er især kendt for sine kult-klummer i italiensk Vogue, som oftest i form af dobbeltopslag eller "Doppie Pagine di Anna Piaggi", layoutet af Luca Stoppini.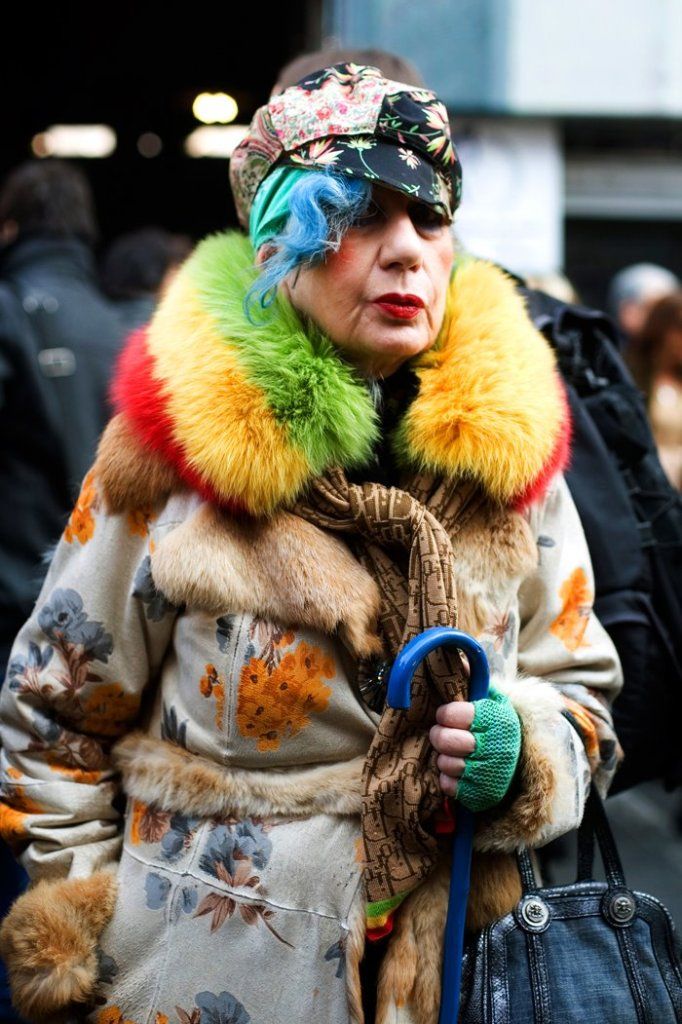 … men nok mest for sin kæmpestore garderobe som bl. a. omfattede knap 3000 kjoler (ifølge Manolo Blahnik var Anna Piaggi "The world's last great authority on frocks") og 265 par sko, mange af dem designet af Blahnik, en garderobe som har været udstillet på The Victoria and Albert Museum i London i 2006 under titlen "Anna Piaggi Fashion-ology". Piaggi har også udtalt, at "Hats are like a halo of happiness." (hun ejede 982 af dem!), og hun siges at være ansvarlig for, at italienerne fik øjnene op for vintage-shopping.
Hun er kendt for kun at bruge et outfit én gang, så det forklarer nok garderobens volumen 😉
Og når jeg bliver gammel, vil jeg insistere på at have en samling af stokke i alle regnbuens farver, så jeg altid har en, der matcher mit outfit 😀
Sources: Wikipedia and Vogue